Receta: Delicioso Chicken Biryani ~ a pressure cooker recipe
Chicken Biryani ~ a pressure cooker recipe.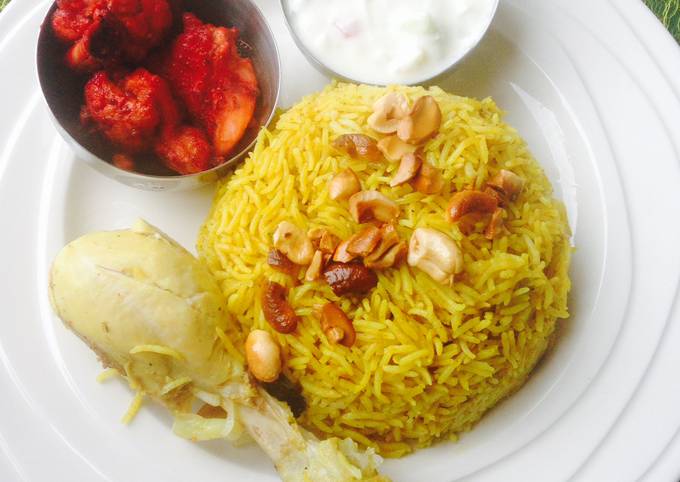 Puede cocinar Chicken Biryani ~ a pressure cooker recipe usando 19 ingredientes y 11 pasos. Así es como cocinar Eso.
Ingredientes de Chicken Biryani ~ a pressure cooker recipe
necesitas 4 cups de basmati rice of.
es 8 - 10 de chicken drumsticks.
necesitas 3 de onions large sliced.
es 2 tbsps de ginger paste.
es 2 tbsps de garlic paste.
preparar 3 de green chillies.
es Handful de coriander leaves mint leaves each of and.
es 1.5 tbsps de masala store bought Biryani (MTR or Eastern brand).
preparar 1/2 tsp de turmeric powder.
es 1/2 cup de ghee (clarified butter).
es 3 cloves de cardamom ,.
necesitas 1 de star anise.
preparar 2 de bay leaves.
necesitas 1/4 inch de cinnamon stick.
es 3 tbsps de yogurt.
es 2 cups de coconut milk.
preparar 6 cups de water.
preparar 1/4 cup de cashew nuts.
es to taste de Salt.
Chicken Biryani ~ a pressure cooker recipe Paso a paso
First we begin by prepping a few things: Wash the rice and soak it in some water. Next grind the ginger, garlic and green chillies together. Chop and prep the other ingredients such as the chicken and onions..
Add 1/4 cup ghee to the pressure cooker, and once it has melted through and heated add the spices: staranise, bay leaf, cardamom, cinnamon and cloves. Fry for a few seconds and then add the onions and continue frying over medium heat until the onions start to brown..
Next add the ginger-garlic-chilli mix and continue frying. The biryani masala, turmeric powder and the yogurt and mix it all together..
Add the chicken pieces and mix together and coat the chicken well with the fragrant delicious smelling masala..
Add 6 cups of water and 2 cups of coconut milk and season with salt..
Reduce the heat to medium low and let it cook till the chicken is cooked about 50%.
Drain the rice and add it to the cooker along with the coriander and mint leaves..
Check for seasoning one last time, before closing the cooker and letting it cook for 2 whistles and turn the flame off..
While the cooker was doing its job, I fried the cashew nuts in 1/4 cup ghee :).
Once the pressure has released, open up the cooker. I gently transfered the rice to a serving bowl and granished it with the deliciously fragrant fried cashew nuts..
Serve with some raita and chicken 65 like I did..