Easiest Way to Make Healthy Christmas Fruit Cake
Christmas Fruit Cake.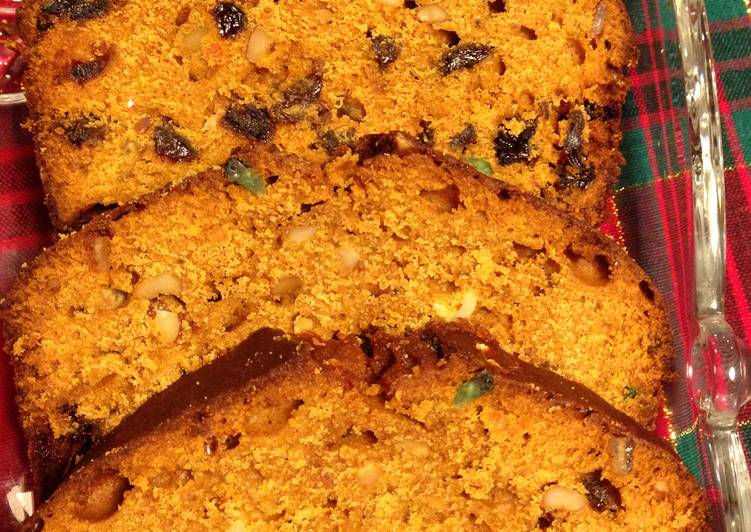 You can have Christmas Fruit Cake using 18 ingredients and 12 steps. Here is how you cook that.
Ingredients of Christmas Fruit Cake
It's 5 cups of All purposeflour (Maida).
It's 1 pound of Butter - ( room temp).
Prepare 3 cups of Sugar.
It's 2 tsps of Baking powder.
Prepare 2 tsps of Vanilla extract.
You need 10 of Eggs.
It's 1 cup of Tutti Frutti.
Prepare 1 cup of Raisins.
It's 1 cup of Cashewnuts (chopped).
You need 1 cup of Dates Rum (or enough to soak the fruit) (chopped).
Prepare As required of Orange and lemon peel.
Prepare 1/2 cup of sugar Granulated.
Prepare 1 cup of Water.
Prepare 1/2 tsp of Cinnamon (powdered).
Prepare 1/2 tsp of Nutmeg (powdered).
It's 1/2 tsp of Ginger powder.
Prepare 1/2 tsp of Cloves powder.
You need 1/2 tsp of cardamom powder.
Christmas Fruit Cake step by step
FRUIT PREPRATION:    Chop and soak the dry fruits in rum/wine and keep it in a bottle  at room temperature. (You could do it 2 to 3 months ahead. Make sure you shake the jar once a while. Longer the better. I do a year in advance).
CARAMEL PREPRATION: In a heavy bottomed pan, add the sugar and a tbsp of water on medium high heat. The sugar will start to melt and start to change colour. Swirl the vessel a couple of times. Slowly the colour will become a little dark golden brown. Turn off the heat, immediately pour half a cup of water, stir and mix well (Wear oven mittens and a long sleeve shirt. Caramel is hot and can splatter, especially when adding water)..
CAKE BATTER : Sift the flour along with  dry ingredients and keep aside..
Separate egg yolks from the whites, beat the yolks and vanilla till golden and creamy..
MIX Sugar and butter. Beat very well with Mixer..
Add  yolk mixture little at a time alternating with little flour and combine till smooth..
Pour the caramel syrup  and beat till everything is smooth and combined..
Add soaked fruits and fold to the mixture..
Beat the egg whites until light and frothy before folding them into the cake mixture..
Grease the cake pan well and line with parchment paper. Pour batter up to half of the cake pan..
Bake for 60 min at 325F or until tooth pick inserted into the center comes out clean.(Preheat the oven first before starting and make sure the rack is in the center).
Remove from the oven and cool in the pan for some time. Invert and let it cool well before cutting. Enjoy :).