Recipes: Diet Yule Log Cake
Yule Log Cake.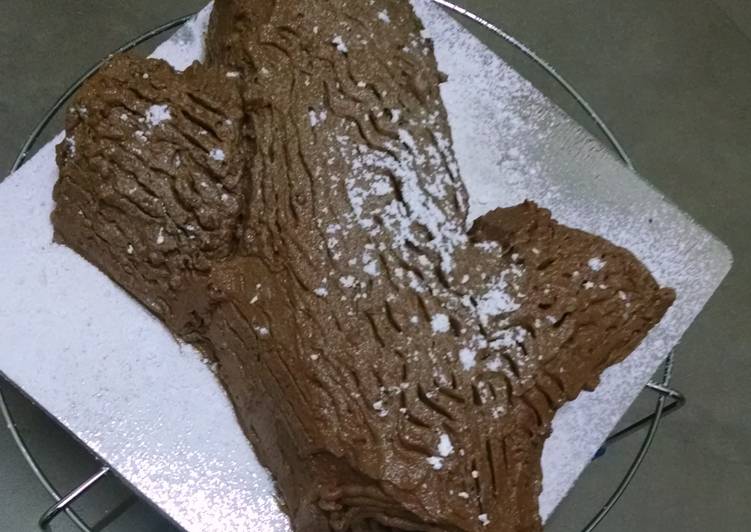 You can cook Yule Log Cake using 15 ingredients and 28 steps. Here is how you cook it.
Ingredients of Yule Log Cake
You need 1/2 cup of Cake flour.
You need 4 numbers of Eggs.
Prepare 1 teaspoon of Vanilla extract.
You need 2/3 cup of sugar Granulated divided   + 2 tablespoons.
Prepare 1/4 teaspoon of Salt.
Prepare 1/4 teaspoon of Cream of tartar.
Prepare 1/4 cup of Unsalted butter.
You need 3 tablespoons of sugar Powdered.
Prepare 200 ml of Whipping cream cream / Double -.
Prepare 4 tablespoons of sugar Powdered -.
It's 5 - 6 tablespoons of strawberry Chopped -.
Prepare 1/4 teaspoon of Vanilla essence -.
Prepare 250 ml of Whipping cream cream / Double -.
You need 3 tablespoons of cocoa Unsweetened   powder -.
You need 5 - 6 tablespoons of Sugar Powdered -.
Yule Log Cake instructions
FOR CAKE : Heat oven to 350°F with rack in middle. Butter 12 x 14 inches jelly roll pan and line bottom and sides with 1 sheet of parchment paper. Butter the paper and dust with additional flour and  knock out excess flour..
Separate the eggs in two clean bowls and let it sit for 30 minutes to get to room temperature. (Using cold eggs aids easier separation and lesser chance of breakage of yolk).
Beat together yolks, vanilla, and 2/3 cup sugar in a large bowl with an electric mixer at high speed until thick and pale and mixture forms a ribbon that takes 2 seconds to dissolve when beaters are lifted. Takes about 5-8 minutes..
Sift half of flour over yolks and fold it in gently but thoroughly, then sift and fold in remaining flour..
At this point melt the butter in microwave for 30-45 seconds and keep aside..
Beat whites with salt and cream of tartar in a large metal bowl with cleaned beaters at medium speed until they just hold soft peaks. Beat in remaining 2 tablespoons sugar, 1/2 tablespoon at a time, and continue to beat until whites just hold stiff peaks..
Fold 1/4 of whites into yolk mixture to lighten, then fold in remaining whites in batches gently but thoroughly. Do not stir, for the cake to be light and airy it's important to fold in the egg whites gradually..
Stir 1/2 cup batter into melted butter in a small bowl until combined, then fold butter mixture into batter gently but thoroughly..
Spread batter evenly in sheet pan and tap once on counter to help eliminate air bubbles..
Bake until top of cake springs back when gently pressed with finger, 9 to 12 minutes. (It took 12 minutes in my microwave oven's convection mode).
Sift top of hot cake evenly with confectioners' sugar and cover cake with a clean kitchen towel, followed by a baking sheet. Holding sheet and cake pan together with oven mitts, flip cake onto cloth on baking sheet. Carefully peel off and discard parchment paper..
With a long side nearest you and using towel as an aid, roll up cake in towel, jelly-roll style, keeping it wrapped in towel. Cool cake completely, seam-side down in towel, on a rack..
FOR FILLING:  Chill the Bowl and beater blades for 5 - 10 minutes.
To the chopped strawberries add 1 tablespoon of powdered sugar, mix well and keep aside.
Pour in the cream and beat until soft peaks form. Add in vanilla at this point..
Slowly add in the remaining 3 tablespoons of powdered sugar and beat until stiff peaks form.
FOR CHOCOLATE CREAM: Chill the Bowl and beater blades for 5- 10 minutes..
Mix the cocoa powder and powdered sugar and keep aside.
Pour in the cream and beat until soft peaks form..
Add 1/2 - 1 tablespoon of cocoa, sugar mixture and beat util stiff peaks form..
YULE LOG ASSEMBLY: Gently unroll cooled cake on a baking sheet, keeping it a baking sheet, such that the long side of cake that was inside roll is nearest to you..
Spread filling with offset spatula evenly over cake, leaving a 1/2-inch border all around.  spread the chopped strawberries evenly..
Starting from long side nearest you, roll up cake, leaving it seam-side down on baking sheet. Gently brush off any excess confectioners' sugar..
Cut a 1 1/2-inch-long diagonal slice from each end of roll and reserve..
Transfer the cake gently, using spatulas as aids, seam-side down on platter/ cake board. Using the cream as "glue," attach end pieces, diagonal sides down, on the sides of log to resemble branches..
Spread the chocolate cream all over the roll and branches with offset spatula and even it out. Using a fork gently create ripples to resemble tree bark..
Cover and cool the cake in fridge..
Dust a little powdered sugar right before serving to resemble snow on the log.