Pineapple Rightside Up Cheesecake. A delicious blend of pineapple and cream cheese in a graham cracker crust. When ready to serve, pull up a chair and enjoy! side. The mixture was very thick so I was able to mount it high in the crust.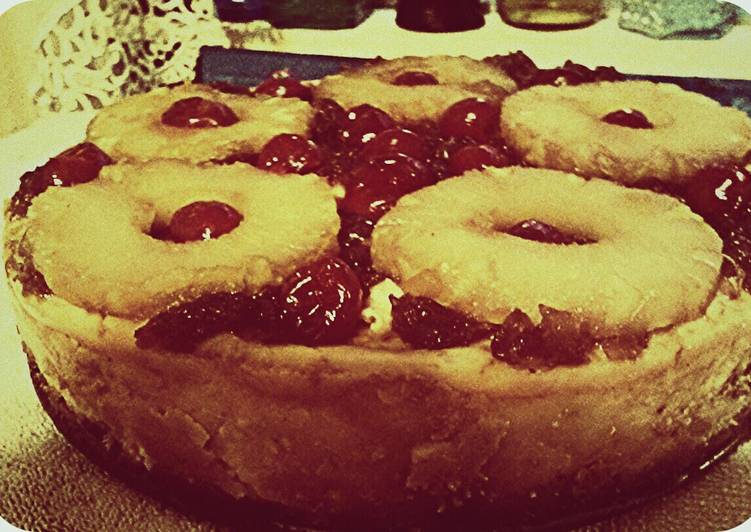 Most people won't think twice about serving basic cornbread when is on the table. But switching up your side dishes can bring a refreshing change to a classic. Replay "Pineapple Upside-Down Cheesecake Gives Cheesecake Factory A Run For Its Money". You can have Pineapple Rightside Up Cheesecake using 15 ingredients and 19 steps. Here is how you achieve it.
Ingredients of Pineapple Rightside Up Cheesecake
Prepare of Crust.
Prepare 1 1/4 cup of graham crackers crumbs.
You need 3 tbsp of butter, melted.
It's of Filling.
Prepare 4 of --8 ounce packs cream cheese, softened to room temp.
You need 3/4 cup of sour cream.
Prepare 1/4 cup of all-purpose flour.
Prepare 4 of eggs.
It's 3/4 cup of sugar or 1/2 cup Splenda.
Prepare 1/4 cup of pineapple juice.
You need 1/2 cup of crushed pineapple.
Prepare of Topping.
You need 1/2 cup of crushed pineapple, drained.
Prepare 12 of maraschino cherries.
It's 1/2 cup of brown sugar or brown sugar substitute.
Meanwhile, make cheesecake layer: In a large bowl, beat cream cheese with a hand mixer until light and fluffy.. This recipe has everything you love about a classic pineapple upside down cake in the rich, creamy form of a decadent cheesecake. Fresh thyme leaves gives this classic pineapple cake a more exciting and summery taste and a little plain yogurt cuts some of the sweetness. Granted, it is easily remedied by prying the caramelized fruit from the pan and carefully put back in its rightful spot on the cake, but it is a touch disappointing.
Pineapple Rightside Up Cheesecake instructions
Preheat oven to 325°F..
Grease 9 inch spring form pan.
For the Crust........
Mix melted butter and graham cracker crumbs, then press into pan.
Bake for 8 minutes or until browned.
For the Topping, prepare while cheese cake is baking.
Mix pineapple and brown sugar ( or substitute) set aside.
For the Filling.......
Mix cream cheese and sour cream together until smooth..
Add flour, mix well.
Add eggs, one at a time, mix until well blended.
Fold in juice and crushed pineap.
Fold in sugar, (or Splenda) adjust to desired sweetness.
Increase oven temp to 400°F.
Bake for 10 minutes, then reduce heat temp to 250° F..
Bake an additional 35 to 45 minutes more or until cheesecake is almost set..
Turn off oven and leave door ajar. Add topping. Garnish with cherries. Let cool for 45 minutes to 1 hiur.
Chill in fridge for 4 to 6 hours or over night..
Serve and enjoy..
Pineapple Upside-Down Cake is popular, but why not serve the cake rightside up? Get Cooking Channel's recipe for Pineapple Rightside-Up Cake baked in And if you really want to serve them upside-down, just flip the jar over onto the plate. Pineapple Rightside-Up Cake with Fresh Thyme. Pineapple Right Side Up actually haha! Tag a friend who'd love these!