How To Meal Prep Perfect Pomegranate smoothie
Pomegranate smoothie. Plant-Based Recipes • Healthy Pomegranate Smoothie. I live for pomegranate season, and get super excited to make a lovely pomegranate smoothie. 'Tis the season for a whole new fruit and veggie. Using pomegranate in your smoothies adds a tart taste that can work really well with lots of different fruits.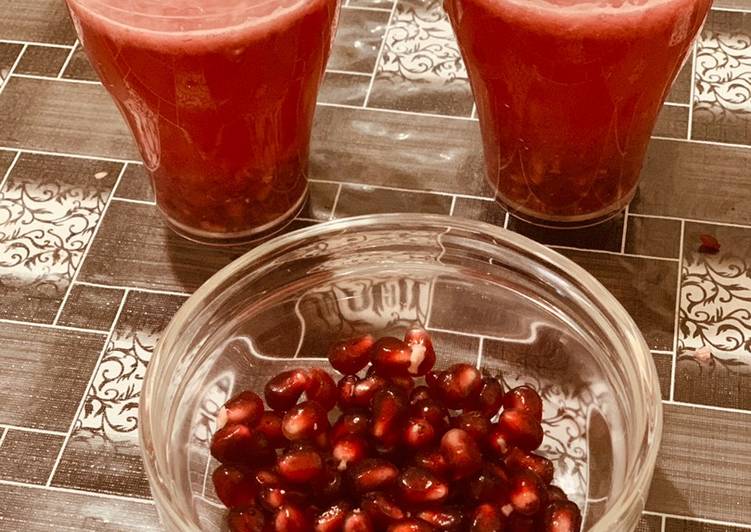 This fruit-packed smoothie is a little sweet, a little tart & a lot healthy! Greek yogurt makes it extra thick and creamy. Dear friends, Thank you very much for your valued time to watch our videos, hope you enjoy "How to Make Pomegranate Smoothie - Home Cooking Lifestyle". You can cook Pomegranate smoothie using 4 ingredients and 3 steps. Here is how you achieve it.
Ingredients of Pomegranate smoothie
It's 1 table spoon of milk powder.
You need 1-2 of sugar free tablets.
You need 1 of big pomegranate.
Prepare 1 cup of cold water.
Pomegranate Smoothie BowlSeasonal Cravings. pomegranate arils, banana, frozen strawberries, coconut milk. Pomegranate Smoothie Recipe with step by step pics. This is a healthy smoothie recipe made with pomegranate and almond milk. i have extracted the pomegranate juice first and then blended with. Pomegranate seeds are not just super healthy - they In this smoothie, we paired pomegranate with frozen raspberries, for an even more intense color and.
Pomegranate smoothie instructions
Peel the skin of pomegranate and put the seeds in a juicer jar.
Add a table spoon milk powder and 2 sugar free tablets and some cold water.
Blend them and serve without filtering the seeds and serve chilled.
Try this healthy recipe for a quick burst of flavor and nutrition. This Beet & Pomegranate Green Smoothie is a super fun & healthy breakfast that won't leave you too sugared out to enjoy the rest of the treats that make Christmas so special. Pomegranates are awesome, but I've only recently started putting them in smoothies. Previously I was afraid that their seeds wouldn't blend smooth enough, and it always felt like a major undertaking to. Pear & Pomegranate Smoothie with Banana & Berries.