Peppermint Bark Cheesecake.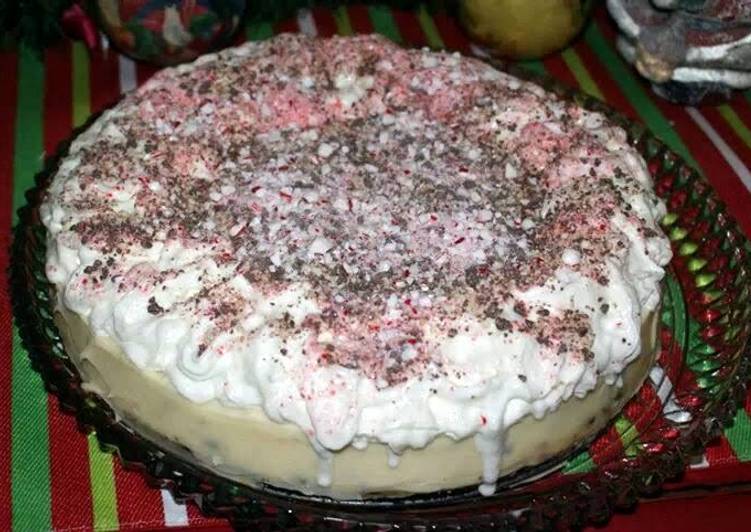 You can have Peppermint Bark Cheesecake using 23 ingredients and 28 steps. Here is how you achieve that.
Ingredients of Peppermint Bark Cheesecake
You need of Crust.
It's 22 each of regular Oreos, with filling.
Prepare 3 tbsp of butter, melted.
It's of Filling.
It's 24 oz of cream cheese, softened.
It's 1 cup of sugar.
You need 4 oz of white chocolate, melted (Ghirardelli is preferred).
Prepare 1 1/2 tbsp of flour.
It's 1 1/2 tbsp of heavy cream.
It's 1/4 tsp of salt.
You need 2 tsp of peppermint extract.
You need 3 each of eggs.
You need 1 1/2 cup of Ghirardelli peppermint bark.
Prepare of Mousse.
Prepare 1/2 cup of cool whip, softened.
You need 4 oz of cream cheese, softened.
You need 2 oz of white chocolate, melted.
You need 1 1/2 tbsp of sugar.
You need 1/2 tsp of vanilla.
You need of Topping.
You need 1 of chocolate shavings.
Prepare 1 of peppermint pieces.
It's 1 of cool whip (preferably in a spray can).
Peppermint Bark Cheesecake instructions
Preheat oven to 350°F.
Prepare a 9" spring-form pan with 2 sheets of tin foil.
In a food processor, blend cookies until only fine crumbs remain.
Add melted butter & blend.
Transfer crumb mixture to spring-form pan.
Using a flat-bottomed cup (or whatever is handy), press down to create an even crust.
Bake crust for 10 minutes, then set aside.
Reduce temperature to 325°.
Cut peppermint bark into small pieces & set aside.
Melt 4 ounces of white chocolate in a double boiler over simmering water, stirring until fully melted (over microwave on 50% power for 30 second intervals until melted, stirring well between each interval).
In a large bowl or stand mixer, beat 24 ounces of cream cheese until smooth.
Add sugar & mix well (scrape bowl well before each addition).
Add melted chocolate, flour, whipping cream, salt, & peppermint extract - mix well.
Add one egg at a time on medium/low speed until smooth & well-blended.
Add peppermint bark pieces, stirring by hand.
Pour the filling into the crust.
Transfer spring-form pan into a larger pan, such as a roasting pan.
Add enough hot water to the larger pan to reach halfway up the outside of the spring-form pan.
Carefully place in oven & bake at 325° for 1 hour.
Turn off the oven, but leave the cheesecake in the oven for another 45 minutes.
Remove & let cool for at least 1 hour.
Chill for at least 4 hours.
In a medium bowl, beat 4 ounces of softened cream cheese, 2 ounces of melted white chocolate, cool whip, 1 1/2 tablespoons of sugar, & vanilla until smooth.
Carefully remove side of spring-form pan & spread mousse mixture evenly over cheesecake.
Chill for at least 4 hours.
Sprinkle with chocolate shavings & peppermint pieces.
Spray cool whip on the top edges.
Store covered in the refrigerator.