Easiest Way to Make Delicious Kerala Christmas Fruit (Plum) Cake
Kerala Christmas Fruit (Plum) Cake.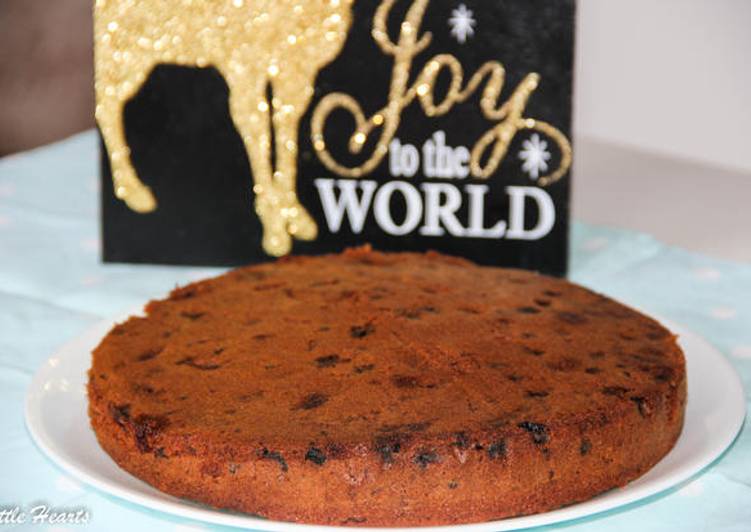 You can have Kerala Christmas Fruit (Plum) Cake using 19 ingredients and 7 steps. Here is how you cook that.
Ingredients of Kerala Christmas Fruit (Plum) Cake
It's 1 to 1.5 cups of Dry fruits (use sultanas, raisins, dried currants, dates, dried cherries, cashew nuts, & almonds).
Prepare 1 cup of Red wine (see notes for non alcoholic version).
You need 2 tbsp of All purpose flour.
Prepare 1/2 cup of Sugar.
It's 1 tbsp + 1/2 cup of Water.
Prepare 1 cup of All purpose flour.
You need 3/4 tsp of Baking powder.
It's 1/4 tsp of Baking soda.
It's 1 pinch of Salt.
Prepare 1Cloves of (powdered).
You need 1/4″ piece of Cinnamon(powdered).
Prepare 1/4 tsp of Ginger powder.
Prepare 1/8 tsp of Nutmeg powder.
You need 1 tsp of Orange zest.
It's 125 gms (1/2 cup +1 tbsp) of Butter,at room temperature.
Prepare 1 cup of Sugar.
It's 2 medium of Egg yolk.
It's 1 tsp of Vanilla extract.
You need 2 medium of Egg White.
Kerala Christmas Fruit (Plum) Cake instructions
Soak the dry fruits and nuts in red wine,in a glass container /jar.Cover and keep away for at least 24 hours. For best results soaks them for 1 or 2 weeks or up to 1 month..
To prepare caramel syrup melt 1/2 cup sugar and 1 tbsp water in a deep pan. As you cook the colour will change from pale golden to brown. Swirl the pan once or twice in between(do not use a spoon /spatula).When the colour changes to dark golden brown, switch off the stove. Carefully add 1/2 cup water and stir to mix well. Switch on the stove and boil the syrup over medium heat for 2 to 3 minutes. Allow this to cool completely(this can be made a day ahead.).
In a mixing bowl combine together all purpose flour,baking powder, baking soda, salt, clove, cinnamon, ginger and nutmeg powder using a fork. Add the orange zest and mix well. Keep aside until required. In a bowl beat egg white until soft peaks form. Keep aside until required..
In a bowl beat together softened butter and sugar until soft and fluffy. Add one yolk at a time and mix well. Add vanilla extract. Mix well until combined. Add 2 tbsp flour mixture and mix to combine. Add the cooled caramel syrup into the egg mixture in 3 batches alternating with the flour mixture. Mix everything just enough to blend. Drain the soaked fruits well and keep the liquid/red wine aside..
Add 2 tbsp all purpose flour and mix well until combined. Fold in the prepared dry fruits and nuts. Add 1/2 or 1 tbsp of red wine (drained from soaked fruit/nuts) to the batter, if desired. Gently fold the beaten egg whites into the batter in two or three batches..
Preheat oven to 180 Deg C. Transfer the batter to a cake tin /loaf pan lined with parchment paper. Bake for about 45 to 50 minutes or until a skewer inserted into the center of the cake comes out clean. Cool in pan for about 10 minutes. Remove from pan,peel off the parchment paper and cool completely. For best results, allow the fruit cake to mature for 2 to 3 days before serving..
For alcohol free version, soak the dry fruits and nuts in 1 cup orange /apple or grape juice overnight at room temperature. If the top of the cake browns too quickly while baking, loosely cover it with foil. Prick holes on top of the cake using a skewer and drizzle one or two tsp of red wine over the cake, for extra flavor. Cover the cake with parchment paper and then with foil and store in an airtight container for upto 2 weeks..