Sig's Lighter Yuletide Cake.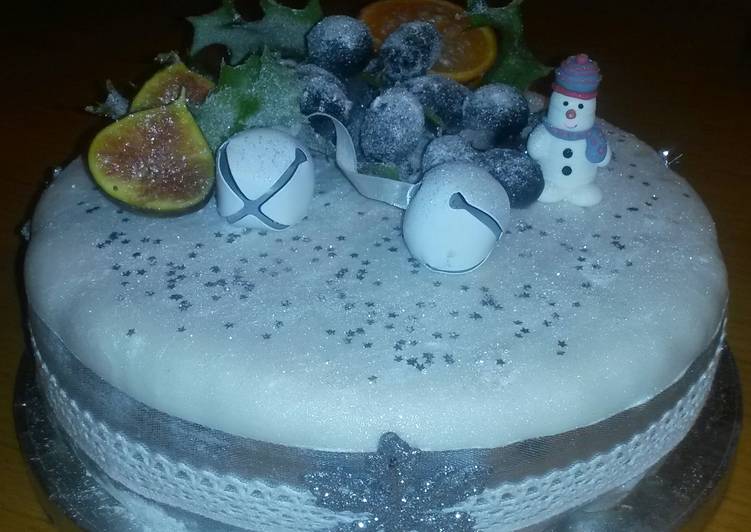 You can cook Sig's Lighter Yuletide Cake using 29 ingredients and 6 steps. Here is how you achieve it.
Ingredients of Sig's Lighter Yuletide Cake
You need of cake.
Prepare 225 grams of butter softened plus extra for greasing.
Prepare 2 tbsp of Brandy.
It's 1 pinch of saffron about 1/4 strand.
It's 225 grams of golden castor sugar.
It's 4 of eggs.
Prepare 225 grams of plain flour.
Prepare 50 grams of ground almonds.
Prepare 1 tsp of baking powder.
You need 300 grams of each of raisins and sultanas.
It's 100 grams of natural coloured glacé cherries.
You need 85 grams of mixed peel.
Prepare 50 grams of each,whole blanched almonds and hazelnuts or other nuts of preference,roughly chopped.
It's 50 grams of walnut pieces,to soak, this can be repeated twice more.
Prepare 3 tbsp of brandy extra.
It's 2 tbsp of honey that is runny.
Prepare of decoration.
It's 1 of eggwhite.
It's 50 grams of castor sugar.
Prepare 1 of small bunch black grapes.
Prepare 2 of small sprigs of holly.
Prepare 2 of clementines.
Prepare 2 of just ripe figs.
It's 2 of kumquats, or if difficult to get hold of any small fruit or slices that you like to eat.
Prepare 4 of cape gooseberries(physalis).
It's 1 of length 65 cm of cake ribbon.
It's of frosting (no marzipan, no icing, as done on the finished bottom picture, my granddaughters effort from last year, I was so proud of her.).
It's 2 of egg whites, fresh.
Prepare 180 grams of icing sugar/ powder sugar.
Sig's Lighter Yuletide Cake step by step
Heat oven 160 C, double line deep 20 cm cake tin with baking parchment.Tie a few sheets of brown paper around the outside,level with parchment.Heat 2 tbls of brandy in small pan, infuse saffron for a few minutes whilst pan is off heat.Put the butter,sugar,eggs,flour,almonds,baking powder and a pinch of salt into s bowl mix mix until soft and creamy.Mix saffron brandy,fruit and nuts and mix into the batter..
Spoon the mixture into tin,make a slight dip in the middle.Bake for one and a half hours,cover loosely with foil,turn oven down to 140C and cook for one more hour or until skewer comes out clean..
Leave to cool in tin,whilst still warm prod the cake all over with skewer,mix brandy and honey together and spoon over cake.Wrap up airtight and feed cake with more honey and brandy mixture as often as you like.This cake can be made up to 6 weeks in advance..
Put a large bowl over a pan of simmering water,make sure the bottom of the bowl does not touch the water.Put the 2 eggwhites and icing sugar into bowl whisk for 5-7 minutes until you have a thick very glossy frosting,folding all mixture in as you go along.Spread over cake creating snow like effect.Half the other fruits and arrange on top of cake,fix ribbon around base..
For decoration and frosting: lightly beat eggwhite.Spread out extrs fine /castor sugar on a baking sheet.Dip grapes and holly in eggwhite coat withsugarmake the frosting..
The lighter (no marzipan, no iicing) decoration and frosting is best made on the day that you serve the cake. My grandmas this one..